In today's pandemic situation, Work From Home (WFH) has emerged as a culture that is certainly going to be continued for the long term in the future. 
Some organizations are even considering WFH as a permanent replacement of office culture. 
Almost all people who work in non-essential sectors are seeing this culture of working from the comfort of their homes as a positive change. But there is a particular group of the workforce which is affected by this change in the most significant way – 'the working mothers'.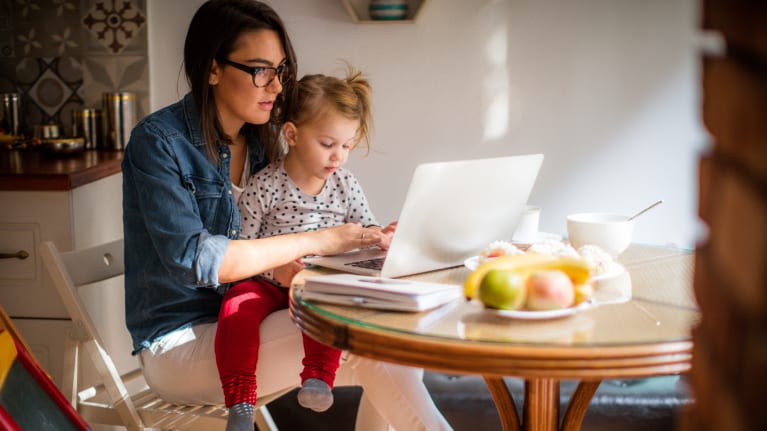 'I have to remind myself of what I lost.  I do not regret my life choices but I suffered "heartaches" and would counsel my younger self to be "careful of your choices".'
Indira Nooyi on missing her child while working 
Working Mothers have been facing various problems in the traditional office culture for decades. 
Motherhood in itself is complicated enough, and these added complications of work only contribute to making the situation worse. Women are often forced to make sacrifices during the time of motherhood and prioritize one over another. The dilemma of choosing between work and motherhood leads to a feeling of stress and guilt in mothers. 
The reasons being:
Claiming less maternity leave than required due to work pressure. 

The threat of losing job security 

Fear of losing their place on the

'Corporate ladder'

Feeling obligated to start working again before they are ready 

Opting to stay out of work because of childcare 
The culture of WFH is expected to solve these problems by providing flexibility to mothers. This flexibility helps them in managing work and kids at the same time. 
Working from home, they can schedule their work according to the needs of the child, start working earlier without being away from their child, and not feel the guilt they would feel if they were away from their kid all the time. The fear of losing their job and the stress of childcare are also reduced significantly. 
However, the comfort of working from home also doesn't come without a cost for mothers. 
Managing work and kids simultaneously while working from home can prove to be exhausting for mothers. Furthermore, the fact that the primary responsibility of taking care of a child is always expected to be of the mother in our society cannot be denied. 
All things considered, even WFH can have its own limitations but can be minimized by managing work and home properly with creativity. 
Here's how:
Make a schedule, but keep it flexible according to the child needs

Plan important meetings and calls when kids are sleeping 

Start the day early so that important tasks can be completed before the kids' morning routine starts

Make adjustments in schedules with your spouse for taking care of the kids

Engage your kid in activities that they love while working 

Take frequent breaks and interact with your kids to make them feel acknowledged 

Hire a well-qualified nanny if your child needs one so that you can focus on work without worrying 
Motherhood is the time when working mothers can feel most exhausted and remain pre-occupied all the time. It is a time when many working mothers may even consider taking breaks from their professional lives. 
Working from home is an option that can minimize, if not eliminate, some of the major problems of traditional office culture for working mothers. 
WFH provides mothers with an opportunity to work while being available for their children all the time. But they should never feel guilty or pressure to be 'the best mother'. 
Because after all, every mother has a unique journey.