Do you feel the need for an assistant who can manage your daily tasks, schedule meetings, answer phone calls, or assist you in business or personal tasks? If yes, Growup is here to help you hire a Personal Assistant or Personal Secretary and ease your daily tasks of correspondence and management. Personal Assistant carries out the administrative task of an individual, unlike Administrative Assistant who takes care of the entire office.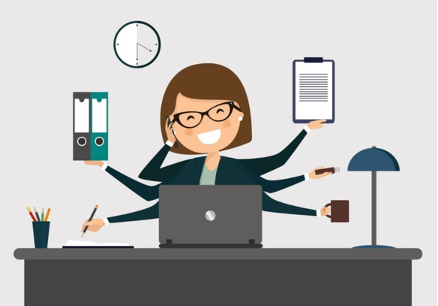 What are Personal Assistant responsibilities?
Although the tasks of a Personal Assistant varies from company to company. There work goes from managing all the daily tasks of a manager to taking notes and answering phone calls. Here are some major responsibilities and duties of a Personal Assistant.
Acts as the first point of contact who answers phone calls and deals with correspondence

Manages and schedules meetings and appointments.

Arranges travel, transport, and accommodation

Gives reminders of deadlines and meetings

Preparing reports and presentations

Manages reports, databases, and files.

Researches for the client

Schedules all the events including business and personal
How do you hire a Personal Assistant?
Before hiring a Personal Assistant, analyze the kind of assistance you want. It's work or personal? It's a full-time or half-time job? You can hire a PA according to your requirements. The PA you hire should be qualified in the field of work you want him/her to do. It can be managing the family calendar and running home errands, or can be scheduling business meetings, making reports and presentations, or booking travel and hotel tickets. All of these require a different type of PA. Growup helps you find your ideal Personal Assistant, who can do all your tasks.
Personal Assistant's qualification and skills requirements :
As a personal assistant, one must be both a good orator as well as a listener. It is important to be able to manage multiple tasks at a time, at any hour of the day. There are no specific qualifications to become a PA, but candidates with more education, experience, and skills are preferred. Having the basic skills is essential.
A PA must have basic knowledge of Microsoft Softwares like Office, Word, Outlook, Excel. Also should be able to enter data and manage the calendars.
A PA should be good with both verbal as well as written skills. As sometimes, PA is the direct interacting person with the clients, so conversational skills must be fluent.
The PA must organize and manage all the events skillfully. The ability to multitask and prioritize time to time is a must. PA should always be ready to tackle any unpredicted hurdle.
PA must be available to work at any odd hour of the day, as his services might be required anytime. 
Personal Assistant's Salary:
The salary of a Personal Assistant depends on various factors like experience, working hours, type of work given, type of PA, and skills. But the average salary of a Personal Assistant in India according to payscale is ₹288,573.
If you are also looking for a Personal Assistant but don't know where to hire from? Let us figure out that for you. Visit our Growup website and schedule a meeting with us now.